Komodo has a long history of supporting charities and social projects that have crossed the path founder Mark Bloom (aka Joe Komodo) over the years. Raising both awareness and funds which enable these organisations to continue their important work.
Some projects have seen Komodo's support and involvement for many years now. Others are relatively new or were shorter term projects and we hope to make our contributions sustainable.
A heart felt thankyou goes out to each and every one of you that has helped us support these projects through buying Komodo or giving directly to the charities that we support.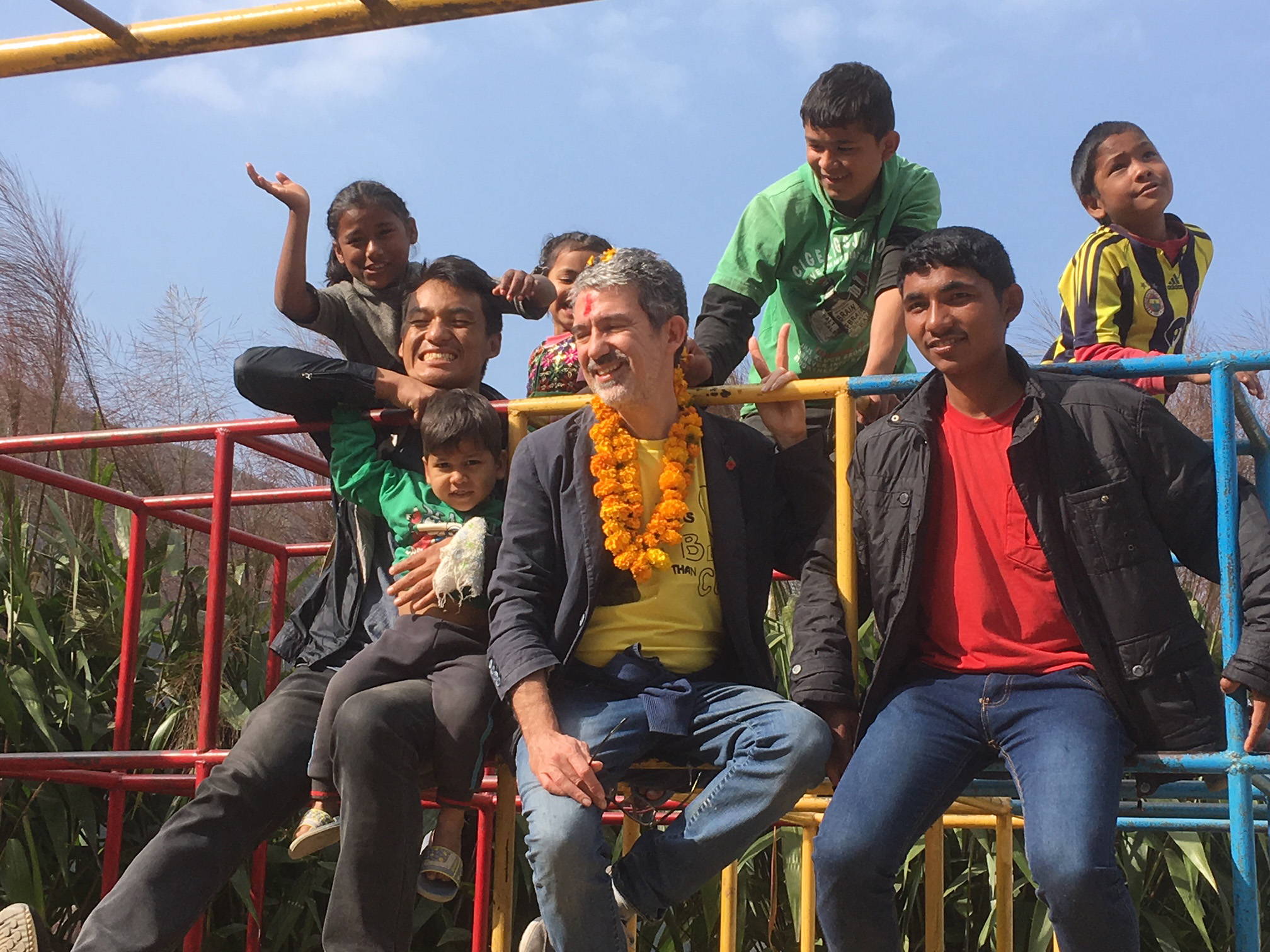 Founder Mark Bloom with children at Sunrise Orphanage, Nepal
---
Danyadara is a not for profit permaculture project focused on land regeneration. Their goal is to reverse and mitigate desertification in Andalusia through sustainable agriculture techniques, creating a legacy that will inspire the region for years to come.
It was back in 2016 when they marked the land that was going to become the food forest and when they presented their plan to José, their tractor driver, who laughed when he saw the curved design they handed him. He thought they were bonkers – in a lifetime working on the fields of Andalusia he'd never seen such scribbles – but agreed nonetheless.
We have already helped them starting to plant trees - yet they are still raising fund to regenerate a 7 hectare field over the next 2 years (2018/19) - You can read more about their project here
---
Trees For Relief - by 5EOB
Let's take an almond as an example. The price for 1 kilo of almonds in Nepal is 1500 – 2000 rupees on the market, while the corn is cheap and not so much used anymore. So, why not to learn to grow the nuts instead?
This was Charlies idea back when he started Trees for Relief in the country side of Nepal and after the earthquakes in Nepal he started thinking about how to develop the local community and provide more opportunities to the people in the village.
They start from grafting fruit and nut trees which then are distributed to farmers for planting in the spring. The farmers learn the first stages of grafting their own trees in a workshop where they're being tought about the bio-intensive way to grow trees.
You can read more about the fruit and nut tree planting project we're supporting here
---
I knew almost nothing about Tibet untill I stumbled into Kumbun monastery as a wide eyed 18 year old back packer in 1983... I found that once you meet the Tibetan people it's hard not to fall in love with them and their story - I was hooked. Trying to get around the border controls, I read more about their plight under the brutal chinese occupation of their country and soon became a supporter of their cause. When I met the founder Robbie Barnett we resolved to pledge our support to their noble quest. Komodo have been making donations now and again for the last 20 years, we only hope they can get bigger and more regular.
Free Tibet Campaign stands for the Tibetans right to determine their own future. It campaigns for an end to China's occupation of Tibet and for Tibetans fundamental human rights to be respected. Founded in 1987, Free Tibet Campaign generates active support by educating people about the situation in Tibet. It is independent of all governments and is funded by its members and supporters - More information can be found at:  www.freetibet.org
Komodo donates 10% of every sale of Free Tibet Products to the campaign to help them continue their important work.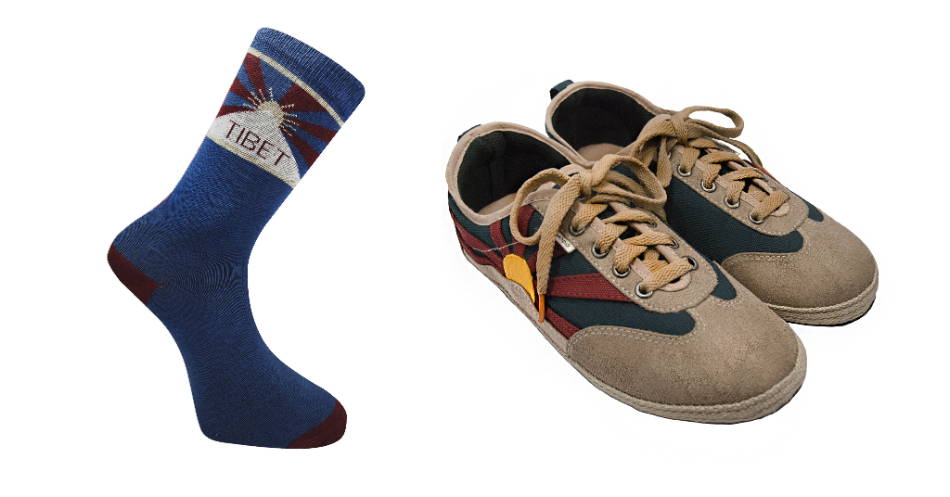 Founded in 1959 to help Tibetan communities in need. Today they continue work with Tibetans in India, Nepal and Tibet through local projects that address basic needs, provide vital healthcare and education.
In 2016 Komodo raised money through a sale event on our website to fund the rebuilding of a school in the remote village of Bakhang, on the border of Nepal and Tibet, that was destroyed in the earthquakes of 2015.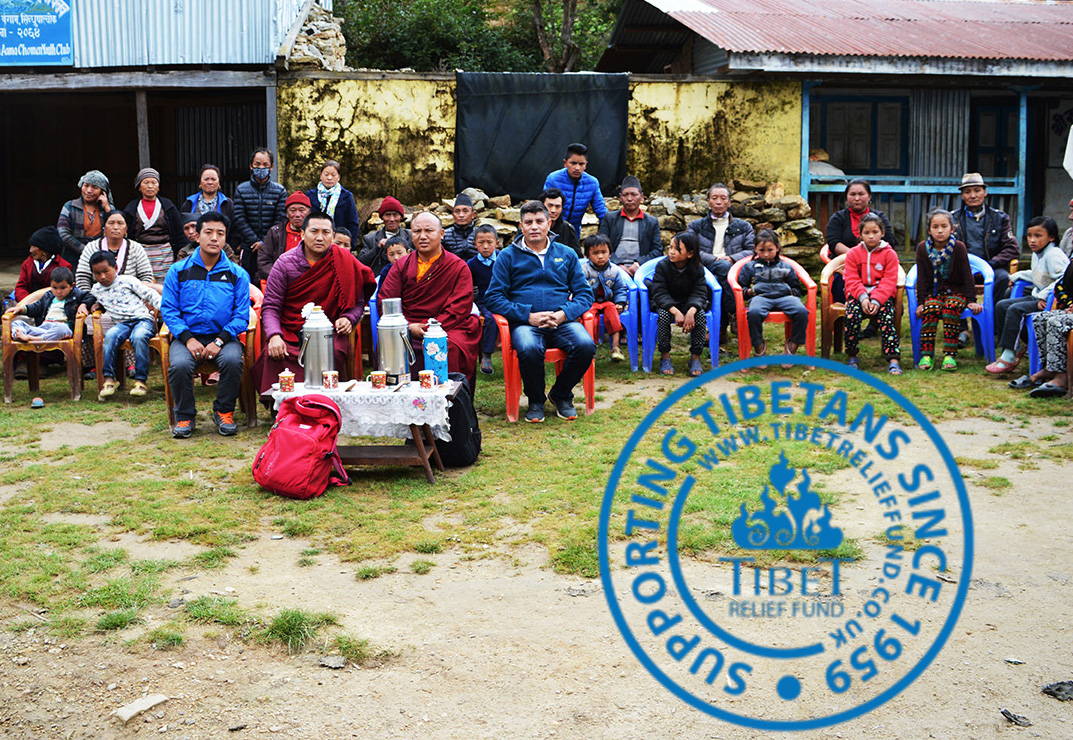 ---
East Bali Poverty Project
One of several reforestation programs that we support, this one is located in Desa Ban, Bali and is managed by EAST BALI POVERTY PROJECT
Joe Komodo says... "Let's make a jungle out there!"
You can find more information here: eastbalipovertyproject.org

---

Clean up Nepal works to provide an enabling environment to improve solid waste management and water, sanitation and hygiene in Nepal by working closely with local communities. Connecting, educating and empowering people on sustainable waste management and sanitation to improve health, well being and opportunity.

Komodo donates 10% of our price from the sale of every garment bearing the Clean Up Nepal logo to their reforestation project in the Chitwan region of Nepal - More information can be found on their website:  cleanupnepal.org.np
---

Komodo gives any faulty garments to the UK's largest children's charity.
Barnado's believe in the potential in every child and young person, no matter who they are, what they have done or what they have been through.
Their mission is to bring out the very best in every child whether the issue is child poverty, sexual exploitation, disability or domestic violence.
Barnardo's works directly with 240,000 children, young people and families every year. They runover 960 vital services across the UK, including counselling for children who have been abused, fostering and adoption services, vocational training and disability inclusion groups.
They lobby the government using original research based on the direct work they do with children and young people.
They campaign to raise public awareness of the diverse work Barnardo's does to transform the lives of vulnerable children.
Support Barnado's by becoming a volunteer, buying from their website or donating - visit their website here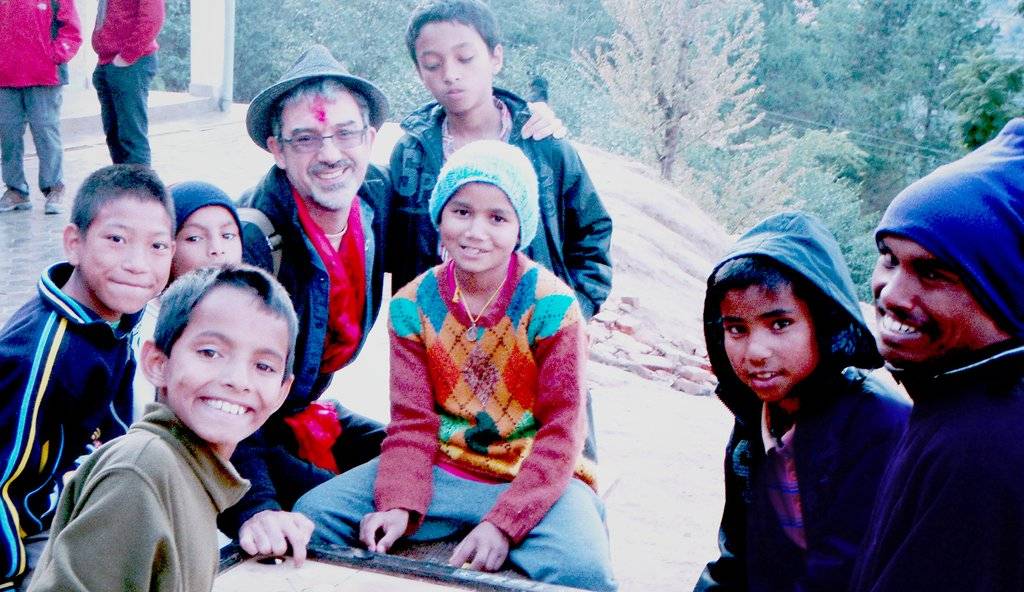 Komodo have supported the wonderful Sunrise Orphanage for many years now. Since Joe first met their charming and inspiring founder Emma Taylor at the famous Upstairs Jazz bar in Kathmandu.
The problems of the Maoist insurrection and effective civil war that raged in Nepal for years caused many problems. For us and the garment industry it caused massive upheaval, but the disruption it gave us was nothing compared to the thousands of Orphans whose parents were victims of the bitter and twisted conflict.

Emma (from Adelaide, Australia) changed her life and dedicated her career to help give these kids a home. Having been out to visit her houses in recent years and seen how happy and well cared for those children are, I'm always glad to have the opportunity to make donations to support her projects.

Brand Aid is an initiative setup by Komodo founder Mark Bloom in 1999 to raise money from fashion brands in support of charitable projects and disaster relief work.

The first project under the Brand Aid umbrella saw the building of 6 schools in rural parts of Tibet. Mostly funded through like minded fashion industry brands, stores and friends.
More recently an appeal was launched to raise funds in support of relief work being carried out in Nepal following the devastating Earthquake in April 2015. Fashion brands swiftly rallied together to raise urgently needed funds for a network of relief projects on the ground in Nepal.

In all, Brand Aid partners raised over £275,000. These funds were distributed to various immediate relief and recovery projects on the ground in Nepal largely through BVS Nepal and other local trustworthy partners.
---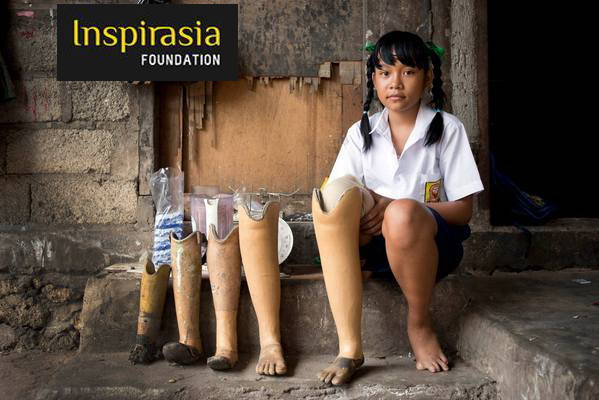 For Everyone, especially those of us who live and work in Bali, the memories of the infamous Kuta Bombings will linger forever. As devastatingly sad as the reality was, it's hard to know what could be done about it...
We had some ideas but they didn't really bear fruit - but for one man, Mark Weingard, who's fiancee was one of more than 200 lives lost to this madness, he found a way to create a positive legacy from this disaster. The Annika Linden Foundation recently re-branded as Inspirasia is a brilliant organisation that has build a wonderful meeting centre and facility in Bali that supports dozens of charitable projects across Bali and Asia. We are proud to support their work and promote their values.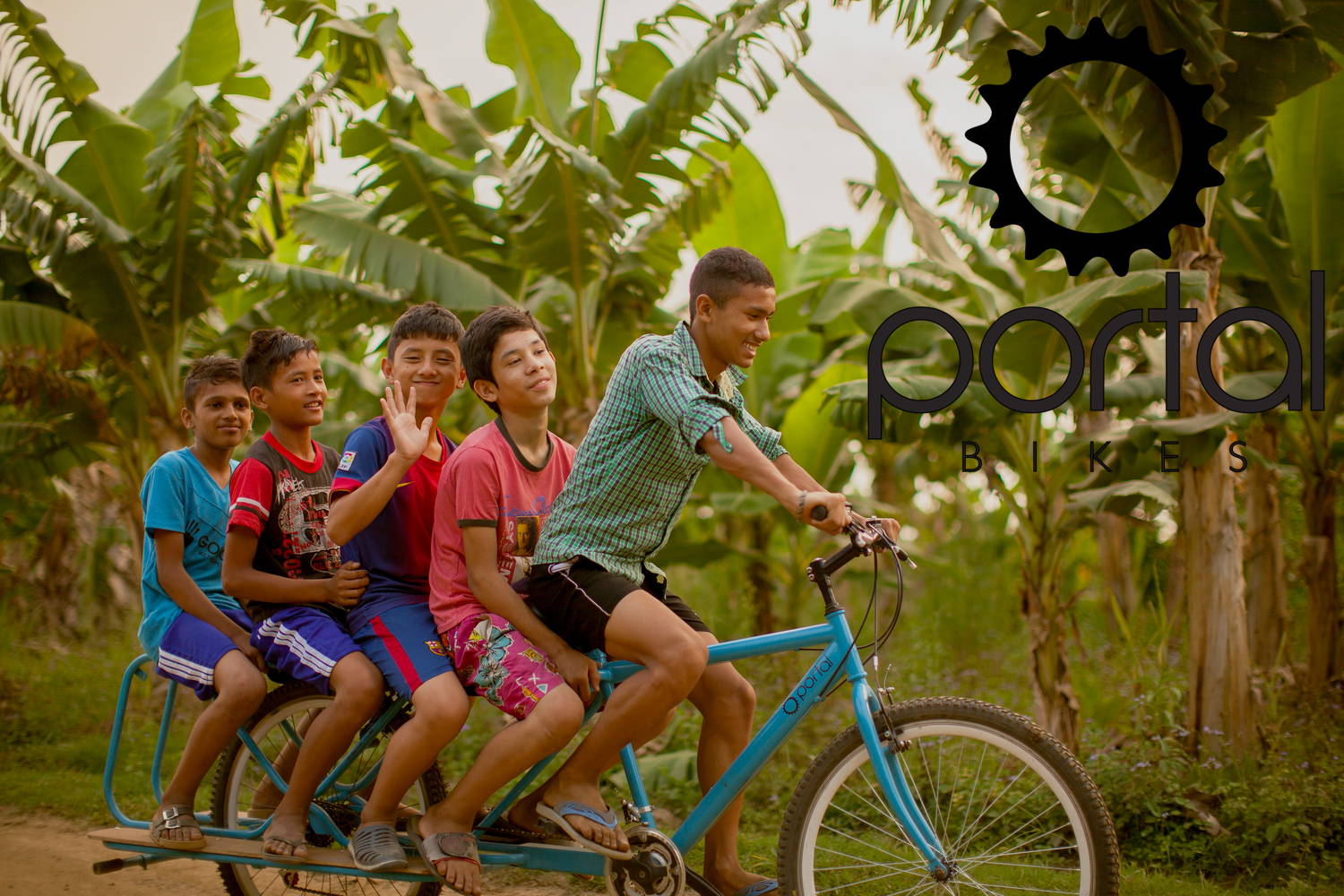 On a recent trip to Kathmandu I accompanied Emma from Sunrise Orphanage   and two of her older kids from Sunrise to visit the Nepal Eco Fair. It was great to see so much practical innovation in action. One of the most interesting exhibits was an odd looking bike and we met a young American dude called Caleb Spear who had invented 'Portal Bikes'...
He and his new wife had moved to Nepal from America and built a factory producing simple attachments and make modified bicycles which convert them into so much more than there primary function would suggest. From producing electricity to was clothes, pumping water to multi person transportation. All things which can have a huge impact on the livelihood of individuals and make important to contributions to communities in developing countries.
So, after a long discussion with Emma, we commissioned a heavy duty bicycle that will allow the kids at the Sunrise Orphanage to do their laundry via pedal power ! It's a really cool idea and we hope to see it come to life this winter - We'll keep you posted...
---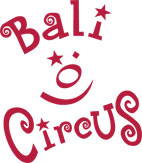 Founded in 2012 by Nadia Lala,  Bali Circus is the first and only circus school in Indonesia.
In 1997, Nadia was a French fashion student looking for an internship in London and started her career designing for Komodo.
A year later, she discovered a wonderful new hobby - juggling! Most evenings, she trained at the National Centre of Circus Art in Hoxton in various circus arts, including flying trapeze. After her first Komodo design mission to Bali she did what we all do - she fell in love with it and not long after... She left us to join the Circus !

The Bali Circus mission is to bring together the children of the world and enhance their happiness, confidence and well being through their fun, creative and active art programs.
Sumatran Orangutan Society

Komodo has been a proud supporter of S.O.S (Sumatran Orangutan Society) since the early 90's when Joe Komodo met and became inspired by their founder, the late and great Lucy Wisdom.
Sumatran orangutans are critically endangered. As their rainforest habitat is cleared for farmlands and roads, these gentle apes, one of our closest relatives in the animal kingdom, is being pushed to the edge of extinction. SOS is dedicated to turning this situation around.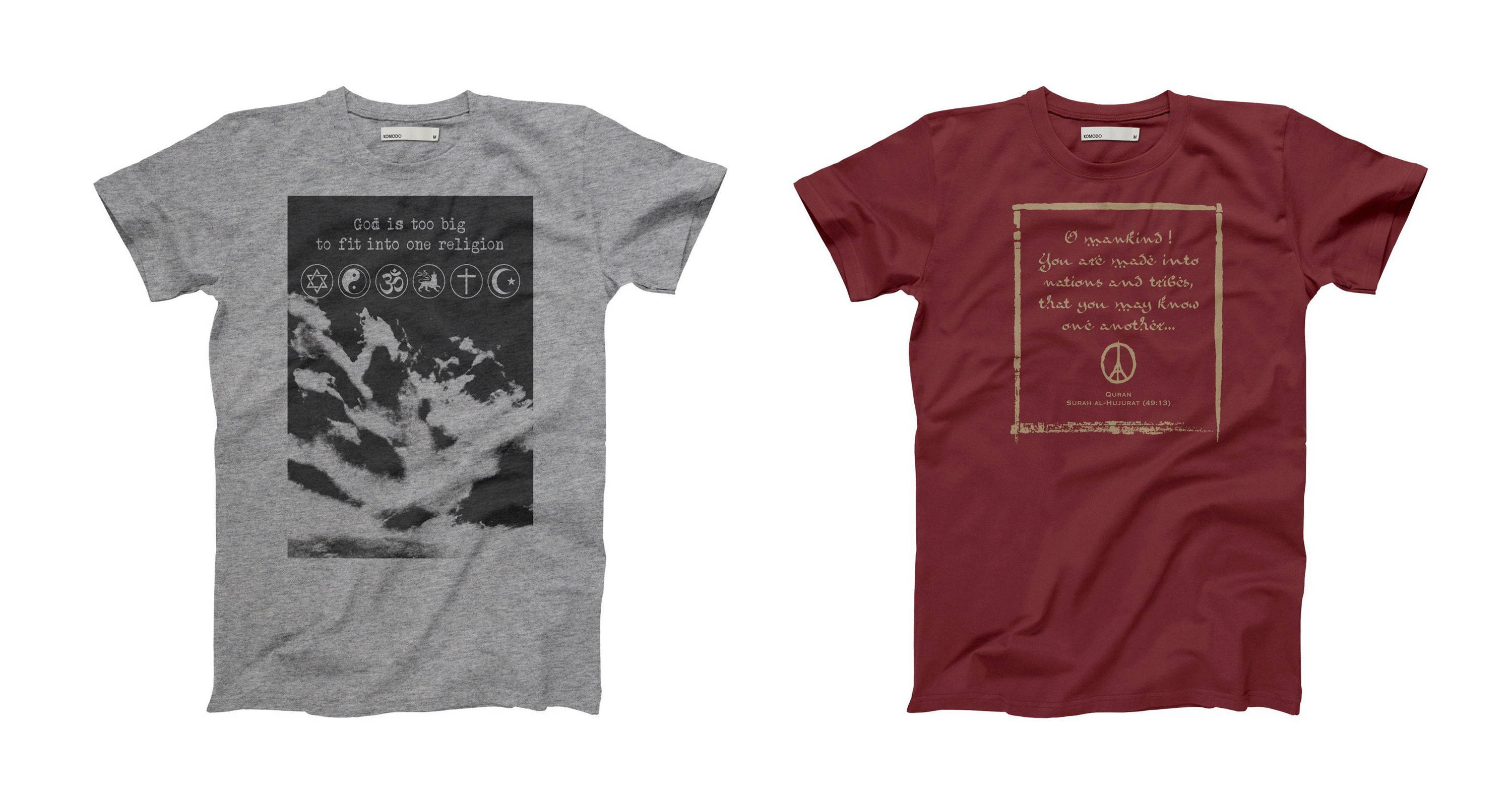 ONE VOICE is a grassroots movement that supports young Israelis and Palestinians in their non-violent activism for a peaceful two-state solution. Joe Komodo says... "Peace is Tough!"    Add your voice for peace now!  
Komodo will donate 10% from the sale of every garment bearing the One Voice logo to the campaign to help them continue their important work.
---

In 2008 Komodo collaborated with WaterAid UK and footwear retailer SCHUH to develop our "Water For Africa" shoe. The shoe was designed and sourced by Komodo and was manufactured in conjunction with Taiwanese ethical footwear sourcing specialst ShoeTec. A donation from the sale of every pair was made by Komodo to WaterAid, which was then distributed betwen a number of projects they were supporting in Africa at the time. These projects ranged from the supply of building materials to build proper waste water systems to supplies of safe water and sanitation and hygiene education in communities.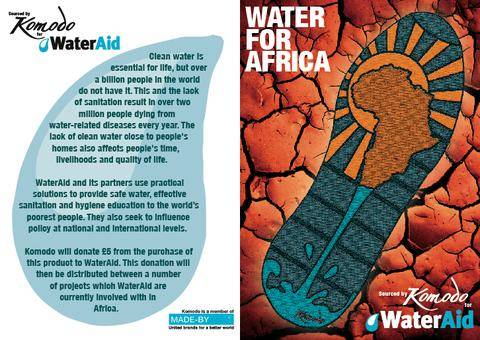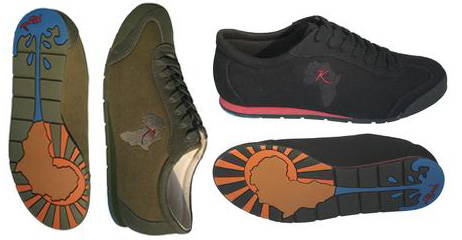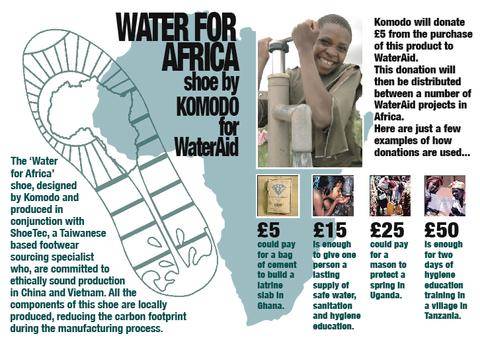 2009 saw Komodo collaborate with UK housing and homelessness charity Shelter. At the time, the charity were the official sponsor of Glastonbury Music Festival's John Peel stage. The late, great, DJ, radio presenter, record producer and journalist had been a life long supporter of the charity and left a substantial legacy to them in his will.

Komodo's long standing relationship with Glastonbury Festival (having had a pitch there since 1988) made for the perfect project all round. The design was created by our in-house designer Tony Mountford and featured a typical Peel-esque quote that any fan of his show would recognise. Over 2000 t-shirts were sold during the summer of that year contributing a massive donation to the charity, helping them to continue their exemplary work which started back in the 1960's.